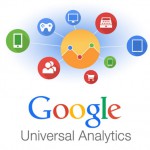 Have you upgraded to Google's Universal Analytics yet?  As I mentioned in my previous post, everyone using the "classic" version of Google Analytics will eventually have to upgrade to Universal, and it's smart to go ahead and do that sooner rather than later.  For one thing, there are more features in UA (and more will likely continue to be added).
For another thing, upgrading is actually quite easy.  We recently completed getting all of our clients transitioned to Universal Analytics.  They ranged from some very basic implementations to some sophisticated Google Analytics implementations with ecommerce and lots of events.  All went smoothly and most took less than a half-hour's worth of work.
So let's get started.  Here is your one-stop tutorial for upgrading your site to Universal Analytics (UA).

Read More