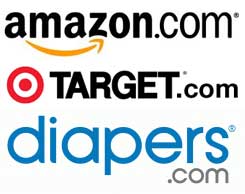 With the holiday shopping season coming, there is a lot of buzz about online shopping and conversion and usability.  And while we know that almost all sites have at least some usability issues, I felt that the largest and most well-known sites have eliminated the lion's share of big usability blunders.  But my experience last week showed me that this is still not the case!
First let me say that as an experienced usability tester, I typically can find my way around an online store pretty well, but in our household, it's my wife that does most of the shopping (online or otherwise).  So she might have been familiar enough with some or all of the sites I'm discussing to not have run into the same problems.  That may or may not be true, but it's during the holidays when your site is most apt to be visited by less experienced online shoppers.  You want to make sure that it is easy to use for everyone.
The Challenge
It was Monday morning.  My Godson's 4th birthday was on Wednesday, two days later.  I needed to get him a birthday present and have it arrive at his house within two days.  Having a three year old son of my own, I was lucky that I already knew what I wanted to purchase him.  My challenge was to find an online store that would get it to him in two days without charging an arm and a leg.  Or at least I wanted to pay as little in shipping as possible.
I did a quick search on the item and found it listed at three large reputable sites:  Amazon, Target.com, and Diapers.com.  My plan was to determine how much it would cost at each store to get the present there by Wednesday, and order it from the lowest.  Little did I know how hard it would be at each of these sites to do this!
Amazon
I started with Amazon.  I figured they would have the least expensive shipping.  Again, I do very little actual purchasing at Amazon, but I knew we have an account with them, and that my wife generally gets free shipping there.  However, I expected to need expedited shipping, which would likely require a premium price.
When I went to Amazon.com, I was surprised to have difficulty finding a link that would tell me what my shipping options were.  To me, it's a cardinal sin to not display a link to your shipping policy very prominently.  I did finally see a small "Shipping Rates & Policies" link among the many links at the bottom of the page.  I clicked it.
Whoa!  The "Shipping & Delivery" page I was taken to had 27 links on it!  And that's not counting the dozens more in the margins.  These were 27 links about shipping spread out over six different categories!  I didn't even know where to begin.  Should I start in the "Special Shipping Methods" section?  There were ten links there.  How about the "Estimating Your Delivery Date" section?  That only had three links.  Like probably 90% of non-regular Amazon shoppers, I found the entire page way too overwhelming, and figured I'd just add the gift to my cart and start to check out to see how much it would cost.  That shipping page defeated the whole purpose of having the information for customers and was really just a waste of content.
It was no problem to find the product and quickly add it to my cart and start to check out.  That was good.  However, I was only given one option for shipping in the checkout phase (3 to 5 days).  I'm not sure why they need 27 links to explain only one shipping option.  I'm kidding of course–I knew there must be something unique about this product for there to only be one shipping option, but I think a lot of people wouldn't.  I did go back to the cart page and saw a note that said "Not eligible for Amazon Prime."  (I'm sure a lot of you reading this know what "Amazon Prime" is, but I didn't and still don't.)  There was a "why" link to the right of that and I did click it, but the note did not give a very clear explanation of "why" at all, or even what "Amazon Prime" is.  Anyway, at this point, I had given Amazon way too much of my time to get this gift sent, and moved on.  They could not get it there in 2 days.
Target.com
I moved on to Target.com and was quickly disappointed to see that they committed another cardinal sin of shipping cost presentation.  They will not calculate your shipping costs until after you've provided ALL of the other information in a checkout.  I of course went to the Shipping Policies page first, and did see that they offer three different shipping options (Standard, Premium, and Express), but it didn't explain the differences between them in either time frames or costs, so like Amazon's, it was pretty useless.
So I added the item to my cart, and that was where I saw, "not yet calculated" next to the shipping line, and when clicking the help icon was told, "Your final shipping cost and any applicable shipping discounts will be calculated and displayed on the review step prior to submitting your order."
It's important to be clear that many people would have stopped shopping on this site at that point.  Especially people trying to do what I was doing, which was just to find out how much it would cost to ship in two days.  That's too much work to complete if you don't even know if they will be a good price.  However, at this point, I was curious enough to continue, as I was already realizing that I had a blog post in the making here!  So I trudged on.
I went through the checkout process and was at least happy to be presented with the three shipping options at Step 2.  But none had a cost associated with them.  How do they expect you to make a choice without knowing how much it will cost?!  The "Standard" was 5 to 8 days.  The "Premium" was 3 days, and the "Express" was next day.  So I needed to choose Express.  I did so and true to their promise, at the very final step (order review), I was told that it would be $25.  That is a lot, although in the ballpark of what I was afraid of.  But I had one more site to try.
Diapers.com
I went to my third site, and quickly encountered my third cardinal sin!  But at least this one was not exactly associated with shipping.  I had given up entirely on looking at the Shipping Policy page first.  Too much time had been wasted with that on the other two sites.  So I found my item and added it to my cart and clicked Checkout.  I was simply amazed to be given a page requiring me to either sign in, or create an account.  Are there really any online stores left that require this?  Apparently there are.  Think about how many additional orders Diapers.com could get just be eliminating this requirement!
I was pretty frustrated at this point, and about to throw my hands up and give up.  However, I knew that my wife had purchased (of all things, diapers) from diapers.com a couple years ago, so on a whim I tried her email address with what I consider to be her most commonly used password, and was successful in signing in.  I was going against principle at this point, but I decided to carry the project through.
The product page I had been on had said that they have fee 2 day shipping on orders of $50 or more.  My gift was only $45, so I'd have to see how much 2 day shipping would cost.  As it turned out, diapers.com only offers one shipping option, saying that "most" items will be received within 2 days.  They do not offer any kind of expedited shipping or any way to guarantee that the order will arrive in two days.  The cost was very good, at just $4.99, and it would have been free if I had spent five more dollars.  Still, I would have really liked a way to be sure that it would get there by Wednesday.
Aftermath
In the end, mostly because I was already there, I just went with the lowest cost at Diapers.com and hoped it would get there on time.  Of the three sites, I can't really say which was the best (or the worst).  It did turn out that the Shipping Policies page at Diapers.com did spell things out clearly, so they were easily the best for that.  But requiring an account to make a purchase is such a poor decision that I just can't declare them a "winner".  I'm sure that if I were a regular shopper at Amazon, probably no part of my experience would have fazed me.  I probably would even have been able to find a way to source the item from a different provider that could give me the shipping option (and/or cost) that I needed.  But I don't think a site should be easy to use only for regular shoppers.  So I can't declare them a winner.  But I can't declare Target a winner here either.  Forcing me to do all the work before letting me know that cost is a very poor decision.  I would normally never have given them the required time.  There would be too many other potential stores to choose from.
So in the end, I declare all three sites losers for this particular experiment.  I ordered from Diapers.com mainly because I had run out of time and had to get some actual work done.  As it turned out, it was a good decision because the present did arrive on time.  But next time I'm presented with a login screen in order to give someone my money, I know I'll be aborting.