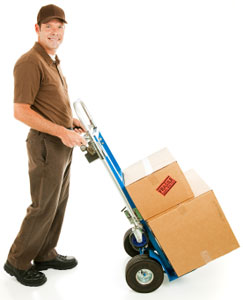 As the 2012 holiday season approaches (and as you know, it's really already here), there is a lot of talk about the importance of offering free shipping during the holiday season and beyond.  And I solidly agree with that.  But while you're taking a look at how you approach shipping with your customers, let's take a look at the whole shipping policy.  You'll be surprised at how many other components of your shipping policy will affect your conversion, your average order size, and your future sales.  Online research firm comScore released a report in May of 2012 that provided a great deal of insight into how online shoppers respond to various aspects of shipping.  Consider each of the following pieces of your shipping policy, and whether you can make some improvements.
Free Shipping
Hey, I said I'm a proponent of it!  The comScore study reported that offering free and discounted shipping on all orders was the number one thing online buyers said that they would like online retailers to improve.  But wait, it gets better.  The top reason people gave for recommending a site to friends was because it had free shipping.  So free shipping not only helps you convert, it brings more people to your store to begin with.  And it becomes even bigger as comparison shopping becomes more frequent online.  According to comScore, 47% of the online orders placed in the first quarter of 2011 included free shipping.  So as more and more online retailers ship for free, it increasingly becomes a table stake as opposed to a differentiator.
If you feel you can't offer free shipping on all orders, certainly consider offering it on orders over a certain threshold (say, $50).  This can often have the benefit of increasing your average order value.  Approximately 70% of shoppers add additional items to their cart in order to put them over a free shipping threshold.
Shipping Options
If you do not provide various shipping options to your customers when they order, you're creating a less-than-desirable experience for them.  The comScore study showed that over a quarter of online shoppers feel the number of shipping options is something online retailers should improve upon.  Most people are expecting at least two options, while many expect four or more.  While a full two-thirds of the people studied say they generally choose the cheapest shipping option, 25% typically opt to pay more for slightly expedited shipping, and 2% tend to pay for next day air when it is available.
In many cases, merchants feel they can develop a simple method for calculating shipping costs for basic ground shipping, but hesitate to offer expedited shipping such as overnight or 2nd day because the cost for them can vary so wildly.  Still, it makes sense to develop a methodology for calculating that price, and if it's not a flat rate, to communicate it as early as possible to the customer (see below).  Even if your customer does go ahead and complete that initial order, if they were unhappy with the shipping choices, they will be unlikely to return.
Early Communication of Shipping Costs
Just as the cost of shipping is an important factor in the conversion process, so too is the communication of those costs as early as possible.  If you offer free or flat-rate shipping, promote that on various pages of your site so that your customers know what it will cost to ship before they ever start an order.  By all means, include shipping costs in the cart prior to checkout if at all possible.  And the only time this should not be possible is if your shipping costs are based on the shipping destination.  Because of this, for domestic orders, it really hurts your conversion to have a shipping price calculation that cannot be made until after you know the destination ZIP code.  According to the comScore study, 55% of online shoppers abandoned a cart because they did not know the shipping costs earlier.
If your shipping costs vary from state to state or even zone to zone, find a way to calculate an average cost and use that as the amount you charge all domestic customers so you can communicate their shipping costs up front.  If your products have slim margins that force you to charge more shipping for larger orders, be sure that the chart to determine the shipping charge is clearly spelled out on a page easily accessible from all ordering pages.
Delivery Time
Just how long are people going to be willing to wait for a package, even if they are not paying extra for expedited shipping?  According to the comScore survey, only 23% said that they would be okay with it taking eight or more days to receive their order.  In fact, less than half (48%) are willing to wait up to 5 days.  So choose a carrier who can deliver within at most 5 days, and be sure there is not a long lag time between receiving and filling the order.  Customers think that their order is leaving the door almost immediately after they place the order.  Customers do not think in terms of back-office operations.
Success with fast delivery doesn't mean much unless you communicate it up front.  All orders should come with an estimate as to when the customer should be receiving their products.  More than half of all online shoppers consider this an important action at checkout.
Reliability & Tracking
It's important to communicate the estimated time it will take to receive the package, but if your carrier fails on that estimate, it's hard to make up the damage to your reputation for that customer.  The comScore study points out that 46% of online shoppers said that receiving their products when expected led them to recommend the retailer.  In fact, next to free shipping, this was the second most common reason for recommending a retailer.  This makes the communication of the expectation described above even more important.  You will be better off setting an expectation of 5 days and making it than setting an expectation of three days and delivering in four.
Tracking of the order after it's placed is also an important service.  Three quarters of online shoppers feel that all retailers should offer shipment tracking information, and 38% listed this as something they think retailers should improve upon.
Conclusions
You may feel that many of these things are things you have little or no control over, that your company's relationships with shipping carriers is outside of your responsibility.  But if you are responsible for your online store, it's critical that you look at all influencers of your site.  If you have facets of your shipping policy that are negatively affecting the bottom line, raise those issues and look for alternative solutions.  But it starts with looking at everything to do with your shipping decisions, and don't just limit your audit to the items I've raised here.  Look at what your competitors are doing.  Think about how you handle international customers, military customers, Hawaii & Alaska customers, and more.  Shipping can have a much bigger effect on the decisions that store visitors make.  Make sure your shipping policy is working for you, not against you.