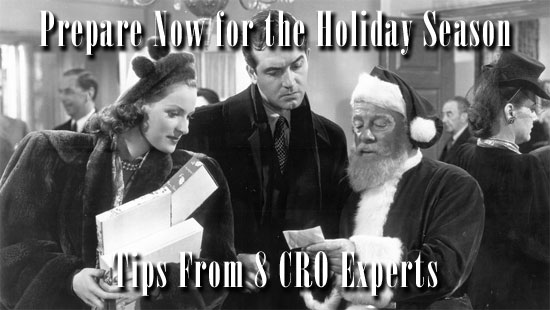 It's August, and as any seasoned Ecommerce manager knows, time is running out to get your online store in ship shape for the upcoming Holiday Season.  But where do you start?  What areas are most important to look at first in preparation for the Holidays?
We reached out to several of the leading minds in Ecommerce Conversion Optimization to ask them, "What is one thing you'd recommend Ecommerce sites do or focus on now to enable themselves to drive more sales this Holiday Season?"  The answers we received were phenomenal and covered a wide range of areas including Pay Per Click, Usability, Prioritization, and more.
Here is what the experts had to say, in their own words:
Immerse Yourself in Real User Sessions
This makes me think of an article Jared Spool from UIE wrote years ago:
Fast Path to a Great UX – Increased Exposure Hours
My favorite part:
"The solution? Exposure hours. The number of hours each team member is exposed directly to real users interacting with the team's designs or the team's competitor's designs. There is a direct correlation between this exposure and the improvements we see in the designs that team produces."
This sounds great in principle. The challenge has been how to make it actually happen. How do you get a multitude of people exposed to actual user research on a consistent basis? Fortunately the tools have evolved to the point where it's a lot easier. So here are the two things I recommend ecommerce site owners do:
1) Implement a user session video recording tool that lets you see exactly what certain users did on your site during their session. How do they navigate? What pages do they see? Where do they click? What can you discern about their mindset? (HotJar is easy and cheap, but there are many others)
2) Make everyone who works on the site take 10-15 minutes to watch at least 5 sessions every day. Developers, designers, marketers, everyone. Play them in the lunch room. Encourage people to share them. Let people nominate videos for AWESOME EXPERIENCE and EPIC FAIL of the week. Use the videos to help make a business case for making changes. In other words, make it a part of the culture.
There is nothing more powerful than watching actual users interact with your site every day to help uncover opportunities, prioritize efforts and ultimately make the changes that can lead to massive growth.
---
Finalize Site Enhancements Now
I'd recommend ensuring all the usability features you're planning to have done before the typical "code freeze" are prioritized and on-track for completion in time for the holidays. For example, if you're going to update your sort/filter feature in search and category, performance optimization tactics, or if you're going to implement a one-page checkout, or responsive design update, and other platform enhancements.
Ideally these updates are final and delivered by late October. It's important that you do prioritize what will have the most impact by the holidays, not "first in, first out" approach. (I would prioritize performance / page load speed and mobile usability over all others).
---
Talk About Time
Urgency is one of the prime motivators for action. So I would do everything possible to remind people that they have to act soon (or now) if they don't want to miss out
Update the home page and header daily to show the number of days left to order gifts on time
  Wherever shipping is mentioned, re-affirm that by acting now, they'll get their gifts on time
Send emails to your list with urgency-creating headlines
Scarcity is powerful because it leverages "loss aversion" a cognitive bias built into all of our brains. We tend to overvalue losses and undervalue gains.
In this case, we overvalue the potential loss of getting our gifts on time. The holidays are one chance for all merchants to remind visitors of the scarcity of time. The holidays are a moment in time, which become a psychological deadline.
Point to that ticking clock in the mind of your visitors and you'll see the difference in your ecommerce conversion rates. If you doubt that this works, just look at any of the big players and count the ways they indicate scarcity on their pages!
---
Leverage Ad Customizers
From a paid search perspective, I think that the most exciting feature that advertisers should be using this holiday season is AdWords' ad customizers.  These scripts give advertisers the ability to include dynamic messaging in ad copy highlighting limited-time sales and dwindling product supplies.  By using a countdown to instill this "fear of missing out", shoppers are more likely to take the plunge and convert on the spot.  In fact, as numbers dwindle, conversion rates rise exponentially.
Not only are ad customizers revolutionizing ad creative from a text perspective, they're also a godsend for busy advertisers.  Gone are the days of slaving away in front of the computer, updating ad copy throughout the shopping-heavy holiday season.  Instead, advertisers can set their customizers on autopilot and head home (or hit up the mall to shop themselves!).
So, what do you need to be thinking about this August to ensure you're ready to go with these?  Start thinking about your promo calendar so you know exactly what sales/dates you'll be highlighting through these scripts!
---
Identify Your Easy Wins
Summer is probably the hardest time of year for ecommerce. It's actually a great time to optimize and improve your top selling products. For example, if you are currently seeing success in August, it is a great sign for the upcoming holiday season. Now is the time to determine where all your easy wins are located.
To do this, I follow the 80-20 rule, also known as Pareto's Principle. Most websites are making 80% of their revenue off of 20% of their inventory. The same principle works for your website visitor traffic. You are making 80% of your traffic, off 20% of your pages. I suggest you find that 20% for both your best selling items and your top traffic landing pages. This is the group of products and pages that should be performing at their highest level.
I recommend building your paid advertising and email campaigns around this core group. This way you can build a marketing calendar for the upcoming season and be as successful as possible.
---
Build to Maximize Lifetime Customer Value
The biggest opportunities from the holiday season that ecommerce sites should start preparing for now are to enter into long-term relationships with holiday shoppers. It's harder and more expensive to acquire new customers than to get a repeat purchase from a previous customer, so ecommerce sites need to have systems in place for getting the most out of the holiday frenzy. Before that frenzy starts, they need to:
Review their remarketing strategy and make any adjustments to ads, offers, and how their lists are segmented
Define goals of email marketing, both to people who purchase, as well as those who don't. Make sure the technology and segmentation work correctly, and start working on copywriting and design
Install cross-sell and upsell widgets if they don't already have that on their site
Implement a follow up strategy to entice people who abandon their shopping cart
Revisit their thank-you page to make sure it's reassuring, and to see where there are opportunities to engage more. That might mean another opportunity to cross-sell or upsell, or maybe get the customer to subscribe to your newsletter or share their purchase socially
Implement a "subscribe and save" program, if appropriate
This is also a perfect time to get an analytics audit to make sure all activity is getting tracked correctly and that they're looking at accurate data when making decisions. Then, they need to set goals for the holiday season as well as for repeat purchases throughout 2016 based on that data.
The ecommerce sites that start preparing for the holiday season now by setting themselves up to maximize lifetime customer value will feel like it's Christmas year-round!
---
Focus on your offers
First – If companies are just thinking about their holiday in August, then they are a little behind the 8-ball. Holiday traffic and sales will make or break your yearly goals, so you have to make sure that your site is a conversion machine. Unfortunately, any tests or optimization campaigns that were completed during the year may not apply to the site's surging holiday traffic. Buyers are in a totally different mindset, so my first recommendation is to try out some new variations during some of the lesser holidays to get an idea about how offers work during volatile traffic periods.
Second – Always focus on the offer and your USPs (Unique Selling Propositions). People want to make sure 1) they will get the product in a timely manner 2) what the shipping cost is 3) what the return policy is. If you don't highlight these things directly, your competitor will and you'll lose out.
Third – Traditional split testing may not be able to get you the wins you need quickly enough. I'd recommend looking into learning algorithm techs to properly 'game' your wins. See the multi-armed bandit problem and its solutions. There are some techs out there that can do this for you already, but they are more full service. However, the investment can be worthwhile if you are HIGHLY seasonal. Check out Conductrics for more information.
---
And One More
Allow me to join this group and offer a tip of my own!
Tune Up Your Site Search
Since many of the purchases during the holidays are gifts, your site has a disproportionate amount of people who may never have been to it before.  Sites selling purses or beauty products have more men visiting them than during the rest of the year.  Stores featuring toys have parents shopping on them throughout the year, but during the holidays, there may be more single uncles than usual.  You have more visitors who are not familiar with your range of products or how to find the right gift.
Prepare for this in a couple of ways.  First, make sure your Site Search function is effective.  Make sure that it is easy to find, handles synonyms well, and that results include pictures and helpful information for someone not familiar with your products.
Look through your site search history to see what kinds of things people have been looking for.  Heavily searched items are probably popular, but if your regular customers are having troubles finding them, you can be sure that strangers will have troubles.  Test your search by searching yourself for some key items or gift ideas, to make sure the results will be helpful to new visitors.
Second, make sure you have a "Gift Ideas" page, or other mechanisms to help someone who is not familiar with your products or who may be a little lost trying to choose something to give.  Williams-Sonoma has a great example of a page to help the culinarily-challenged person find a suitable gift for the cook in his or her life.  There are links to find gifts by price range, popular items, or items for different kinds of interests (cook, griller, baker, coffee lover, etc.).
During the holidays, it's important that your site meet the needs of the not-so-frequent visitor.  But it takes time to get everything ready for that.  Take these steps now so that your online store can get the most out of the holiday season.
The Holidays Approach
So wow, that's a lot of great information from some of the top minds in the business of squeezing more revenue out of ecommerce stores.  Yours may be in good shape in some of these areas.  But chances are, more than one of these tips can help improve your upcoming holiday season dramatically.
But you don't have much time to get these things implemented!  The time is now to get going on these things so that you are ready and can get maximum benefit from the holiday spike and end the year strong.  And when you finish that, tell me, what would be your top tip for preparing for the holidays?